Coastal Staffing LLC is excited to announce our newest branch location in Emporia, Virginia.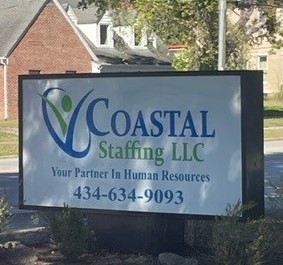 Serving our community since 2008, our newest location is located at 441 South Main Street, Emporia, Virginia. Our experienced team of staffing specialists can be contacted by calling the office at 434-634-9093, emailing [email protected], or on the web at https://coastalstaffingservice.com/emporia/.
You can also stop by during regular business hours, Monday through Friday, from 8:00 a.m. to 5:00 p.m. to discuss your staffing needs or complete an employment application.
Coastal Staffing is the leading staffing service in southeastern Virginia and northeastern North Carolina. Coastal Staffing has helped nearly 20,000 people in our community find employment in various industries including customer service, administration, industrial, manufacturing, hospitality, and clerical.  At Coastal Staffing, we strive to create economic security for our employees and our clients by providing first-class staffing services.
We provide our with employees tons of opportunities, temporary and permanent placement, seasonal jobs, and flexible assignments. There are both full and part-time positions currently available in a variety of fields with great pay. We have retail, hospitality, clerical, seasonal, housekeeping, administrative, general labor, drivers, construction, and many more positions available. There are no fees for applicants. Some of our openings are also available starting at age 16.
Coastal Staffing also offers our employer partners a competitive advantage. Our professional team of staffing specialists is an integral part of our local markets and know exactly where to find the talent to meet your specific staffing needs. We have matched hundreds of employers with thousands of job seekers.
For additional information or to connect with one of our Staffing Specialists in Emporia, Virginia, or one of our northeastern North Carolina locations:
We are also on LinkedIn at: https://www.linkedin.com/company/coastal-staffing-llc.
Contact us today to find your next job or your next great employee! At Coastal Staffing, the possibilities are endless.